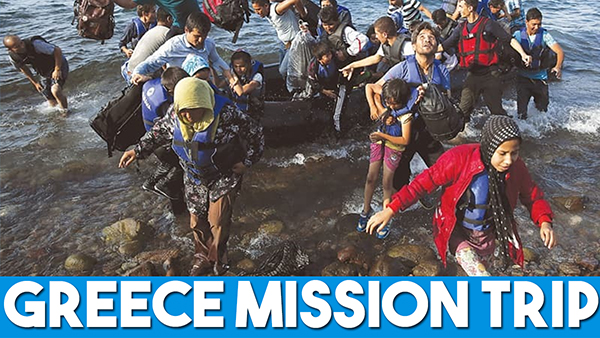 Women's Day
I have a confession to make, I am a tomboy and large gatherings of women sometimes freak me out. If you were to approach me about joining a women's Bible study or invite me to go on a women's retreat, I would likely run the other direction as fast as my little legs can carry me. With that in mind it may surprise you to know that I really, really enjoyed Women's Day at the camp! Our team had the great pleasure of hosting Women's Day once while on our trip. I admit I had some misgivings beforehand about my suitability for this assignment but I think it turned out really well.
Women's Day is a brilliant new ministry that didn't exist last time I was here. The purpose of Women's Day is to give women in camp a safe space to get together on Saturdays and just relax, forget the stresses of living in an overcrowded refugee camp, and take a break from caring for their families. This means no husbands or children are allowed to enter and interrupt our time together-much to the outrage of some of their offspring who spent the entire time beating on the door and trying to climb in the windows! :)
So, while Lauren took on the role of Gatekeeper and kept the munchkins outside, the rest of us female volunteers served tea, fruit, and cookies to around 50 ladies. We also provided yarn, knitting needles, and crochet hooks for the older women in one room and there were adult coloring books, spa products, and nail polish laid out in another room for the younger women and those with no interest in the fiber arts. (BTW, a big thank you to those of you who donated yarn and needles for this event. Your donations were very appreciated!)
The earlier part of our event was dominated by women from Afghanistan so the majority of women in the knitting room could speak the same language. Most of them had a project they had started on a previous Women's Day and they were quite the accomplished crocheters. They chatted, enjoyed their snack, and the more experienced ladies helped the less experienced figure out what to do with their yarn. Some women simply got on their phones and gleaned instructions off the internet to make whatever they had in mind.
At one point something happened that really drove home the importance of providing this kind of opportunity for community. One lady started praying or chanting and everyone grew very quiet and listened respectfully. Across the table from, who I will call The Cantor, another woman was openly weeping. At the end of the formal recitation or prayer I was tasked to fetch the weeping woman a tissue. After that, it was explained to me with hand signals that the weeping woman had just found out that a loved one was killed in an explosion of some kind. I expressed my condolences by putting both hands over my heart (and fervently hoped that it wasn't a US drone that accidentally hit a civilian). I am not trying to make a political statement but that is honestly what was going through my head.
After the tea and snacks were served there was time for us to sit and chat with the ladies as much as can be done with a language barrier. I had a picture book and an Arabic/English picture dictionary that we used to communicate with. It was nice to finally meet more of the female residents in the camp because you don't see as many out and about as the men. They probably spend more time in their tent or housing unit for various cultural and logistical reasons.
For the remainder of our time in camp it was a continual pleasure to keep running into ladies I had met on Women's Day. I am confident that they had a positive experience at Women's Day because they would smile and greet me with a kiss on each cheek when they walked past me in camp. I don't know what these women have been through or what their futures hold but I know that they are strong and brave for making the sacrifices they have made for their families and I am honored that I was able to serve them.
Thank you Church Family for praying for us on this trip! Please continue to pray for these amazing people who have persevered through so much trauma and adversity and continue to face a magnitude of challenges. Everyday that I spend in camp I am humbled by the grace they extend to us fresh-off-the-plane newbies who are here today, gone tomorrow with barely any understanding or experience with the difficulties that these people are stuck with. May God help us all to see each other, refugee or police officer, aid worker or tourist, with the same love and understanding that he sees us with.
Peace,
Robin Brumley