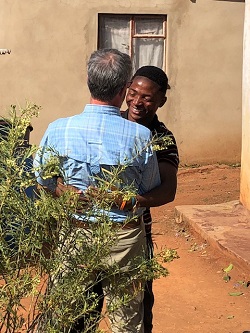 HCP - Long Distance Relationships
Our apologies for the late post. Our team has been going non-stop since we arrived in Swaziland early in the morning on Monday the 2nd. In fact, as I write, we are somewhere over Greenland on our way home. Our travel from Cape Town to Swaziland was an adventurous, long, sometimes harrowing, and long (did I already say that? :) ) experience. Yet, we could see God's hand of help and felt your prayers all the way. A huge thank you and we are excited to tell you about it all in person.
Now to the second half of our trip—Swaziland. Going in, our goal here was clear—To visit our World Vision sponsor children (some of the 250 our SPC family supports here) and to see first hand what the World Vision team is doing in our Mahlalini community.
Sponsoring kids in Swaziland is the ultimate of long distance relationships. At home we pray for them, donate money, and we even write to them once in a while (as we do at SPC every first Sundayof the month). We sometimes even get letters back. But although the contact is minimal, and although it is the essence of a brief, long distance relationship, I haven't talked to a single sponsor who doesn't know their individual child's name, a little bit about their situation, and anxiously hoping and praying that the lives of their sponsor child (and the entire community) are getting better through it all. Because of the distance, however, it is sometimes hard to know.
While we can't speak for every situation, the visits we had with our sponsor kids were a confirmation that what we are doing is making a difference, not just in the community's life, but with each individual child.
First, the community. From talking to the people and through my own experience (this was my fifth trip here over the years), Swaziland as a whole is doing better than I've ever seen it. The droughts that have plagued the nation for years have ended, which means that crops are growing. Since the majority of the nation are subsistence farmers, you can imagine what a load that takes off families. The country is also experiencing a decline in deaths from HIV/AIDS that wiped out over a million lives in the past. The stigma of talking about it, a cultural push for healthy living and sexual protection, along with the push from the government to get and take the medications available have succeeded in lowering the death rate. I was talking with a pastor friend here who used to preside over at least four deaths due to HIV/AIDS every week, but now it is much more sporadic, he said. All in all, there is hope, and with hope comes renewed life. We are grateful to God for that.
World Vision is also a big part of that renewal. They are very much respected with the government, working hand in hand with them on projects for the growth of the people. A big push we saw first hand had to do with education. We had the chance to visit two different secondary schools on our trip who had fairly recently received bore holes through World Vision. Before this on-site and clean water source, students had to collect water from the rivers far from their schools, spending one hour of class time daily just to have enough water for their needs. That is five hours less per week of instruction. Along with that, these schools now had enough water to support school gardens, where the students studied agronomy and then put their learning to use together. Another site we visited an after school reading program, funded by World Vision. This operated as a way for students who needed more help with reading and encouraging their love of learning, investing in them for the future. On a few of the school uniforms we saw under the school crest the embroidered words, "Knowledge Is Power." So true for any child, and World Vision has the forethought to be investing in these ways.
We also saw the effect our long distance relationships are having on our sponsor children themselves. If you ever wonder, "Is my relationship with this child really doing any good?" or, "Do the letters I write even make a difference?", the answer is a resounding YES. John Wall's visit with his sponsor child, 18-year-old Phumlani, started out with the boy literally picking John off the ground in a bear hug. The entire family gathered around, each one giving thanks for this long distance relationship and the support that goes with it. Kelly's visit was one of great celebration as Nonsikelelo got to show us her classroom where she is the top student in her class, and introduced us to her identical twin sister (which by the way, she shares in common with Kelly, also an identical twin). The common bond they shared around education, hard work, family—the connection was powerful.
And for Lucy and me, we had the chance to visit both of our sponsor children at once, who come from two different parts of the country (which the WV staff bent over backwards to make happen). Together, Zwakele and Thubalihle represent over 22 years of sponsorship for us, and to see them both together, to hear Zwakele call Lucy "my sister" over and over again, to hear Thubalihle call me "Father" (as one who has no father in her life), makes you realize that while these relationships are big for us, they are monumental for them. I have been on dozens of sponsor visits with people over the years and I always come out knowing that these long distance relationships make a difference. So on behalf of the community of Mahlalini, on behalf of World Vision, and on behalf of your sponsor kids, thank you.
Our team plans on bringing a report to our child sponsors and our SPC family in the near future, so stay tuned. Until then, grace and peace to you.
—Jeff for the team