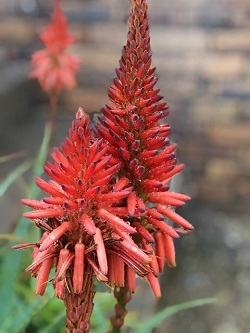 HCP - On Drought and Rain
Today is day three of the Youth Camp at Hebron and it's raining. As Seattleites, it seems all too familiar, and in fact a bit of a drag.
But then I think of this region and the severe drought it has been in. Cape Town is literally running out of water. The farms here are suffering, many of the fruit farmers having to cut down some of their crops because of the long absence of H2O. It's raining today, a gift from God that has a promise of new life embedded in it.
That same truth is evident in our camp. As the kids (up over 220 in all) arrive in the beds of farming trucks, I am reminded of the long drought their people have had under apartheid and unfair labor practices. It used to be acceptable in South Africa for farmers to pay their workers' overtime in liquor, perpetuating a cycle of addiction and abuse. Some farm workers quarters still have no electricity or running water. Some of the seasonal workers still live in shacks made out of whatever they can find, places where we wouldn't let even our animals live in the states.
But the rain is here, and hope is sprouting forth. More and more farmers (being led by Neil and Olivia Hall of Hebron Community Projects) are certified Fair Trade farms, which guarantees fair labor practices and living conditions for their employees. In the Riverview settlement where the migrant farmworkers live, the ministry called HUG (which is also supported by SPC) is building a new and expanded preschool, including a church and a playground, right in the middle of the everything, moving the place from a precarious settlement to a defined community.
And the Life Centre—It's hard to put into words how incredible it is to be here and see the seeds that have sprouted. The last time I was here four years ago, the building was barely begun, the field was not even leveled. Before that, it was just a dream and a vision of a few people who believed that God's rain (and reign) would show up in a dry and arid spiritual landscape.
But as I write this listening to kids having fun and learning about Jesus in this dry communal space, as I hear the rain pound the tin roof of the Life Centre, I am thankful and joyful that when we trust in the God of mercy and grace, when we risk planting seeds in the midst of droughts, we get to watch new life take form. It is slow and sometimes imperceptible, but it is there. And getting to see it here is a great gift.
A huge thank you to our SPC family for their support and investment here. It is paying spiritual dividends and will bear fruit for generations to come. Keep praying for us. We are doing well but are tired nonetheless. Prayers for stamina, safety, and open eyes and hearts are appreciated.
—Jeff