Remembering Rob Wallace
Aug 3, 2020

|

For many of us in the SPC community, Rob Wallace was a loved mentor, leader and friend. With his passing on March 6, 2020 and the subsequent lockdown due to the COVID-19 crisis, it has been challenging to effectively share some of our most cherished memories of Rob. Below is but a small collection from SPCers and friends honoring his life, mission and friendship.
---
I first met Rob Wallace in the Men's Bible Study at SPC. From the first time I met him, what stood out most about Rob was his vibrant love for Christ and his love and devotion to God's word. He encouraged us gents to go deeper in our walk and always found a way to bring our conversations and discussions back to Christ. He frequently had a story to share with us of times in his life when he grew in his life with Jesus. Our current study in the men's group, The Reservoir, is a book Rob brought us in the last months he was with us and a great example of his legacy of encouraging a deeper walk with Christ. Sometimes the men will comment on the study, "these are really hard questions" but they are questions and observations always pointing us back to deepening Christ's work in our lives. Thanks Rob!
One Saturday morning after men's study, Rob said he would like to talk to me for a few minutes outside. In our conversation, he indicated he would like me to be open to serve on Session and was checking my interest level, actually in so many words, he suggested it was time to get to work and be a participant. He was right, it had been many years since I was involved in a church board and as I had recently retired it was high time I became more involved at SPC. Without Rob's invite to get busy, I doubt I would have gone deeper in my involvement at SPC when I did. Thanks again Rob!
Rob also Introduced me to Jesus! He really did! One Saturday morning at men's study, Rob was raving about a young man he found to help him out on yardwork at his home and said to the guys in our study that his yard had never looked better. At the time I had gotten very busy post-retirement painting all the rooms in my house and putting in new baseboard. Some yard help was exactly what I needed. Rob gave me the phone number of his yard guy, Jesús. I called Jesús, and he has been doing my yard for months now. Twice a month when I see Jesús working in my yard, I think of how thankful I am for Rob in so many ways.
Now, when I see Jesús, I think of Rob. When I think of Rob, I think of Jesus Christ."
Bryon Peterson
Stewardship Elder
---
I had the honor of serving on the Sammamish Presbyterian Church Session with Rob during the same three-year term, and we served on the Business Committee together. I was always so impressed with Rob's thoughtful and rational approach to our work. He came to our meetings prepared, armed with more data and numbers than we could have ever imagined. And while Rob's approaches and suggestions were always rooted in the data, it was clear that they were also anchored in his faith. Even when we were faced with challenging circumstances at SPC, Rob never lost hope that God would provide for SPC and reveal His plans to us in time. When Rob spoke, people listened. I think this is largely because they knew he would bring a balanced perspective, free from hyperbole and drama. Plus, Rob's dedication and optimism were contagious. Everyone wanted to believe what he was saying, and we knew we could because it was founded in truth and faith.
One of my favorite memories about Rob was that he started following me on social media at some point. When he saw me in person around the church, he consistently would stop me and tell me, "You are living such a great life! I love seeing what you and Joe are up to and the activities you are doing with your boys." I always beamed when he told me this. It felt like he was really seeing us through my seemingly trivial social media posts, and he really cared. Hearing these words from someone who has grown children and whom you unequivocally respect means a great deal. Rob also spent time with his grandson at VBS, and my youngest son, Tanner, was in their same group. During and after VBS, Rob would tell me all kinds of funny things Tanner did and said and tell me what a great kid Tanner is. Again, it felt like Rob really saw him and appreciated Tanner for the little 3-year-old he was.
I miss Rob a great deal, and I still don't understand why God took him from us so early and so fast. Rob made the people around him better through his words and his actions, and my life (and my family's life) was certainly enriched because of him. We have a quote on the wall of our home that says, "There may be no thing greater than a life well loved." I feel like that quote sums up how Rob lived his life."
Courtney Everson
Former Business Elder
---
Rob and I served on Session together, overlapping for perhaps 2 years, and I can recall at least three instances when we tussled. We simply saw things differently, as people sometimes do. And here's what I learned in my tussles with Rob - he was honest, direct and trustworthy. He never brought rancor or smallness to our debates but, rather, he brought passion because he cared so deeply about the church. And the longer we served together, the more my respect for Rob grew. I watched him devote his considerable skills and abilities - his smarts, strength, work ethic, experience - to serve the church, and I was challenged by his example. Rob was not flashy, he did not have an agenda that was beyond SPC's mission - to be a Christ centered, mission minded family - rather he worked very, very hard to be sure that SPC lived up to that mission. I miss Rob and I miss our tussles. He showed me how to care deeply for the church and how to care well.
Steve Kamm
Adult Ministries Elder
---
I only knew Rob from the office setting as I'm not a member of SPC. Usually, Rob would arrive within 15 minutes of me and start making coffee. As soon as the coffee was ready, we would each have a cup and discuss the issues of the day and what to do. I always felt that we were on the same page. The thing I miss most are those early morning meetings. In my entire career, Rob was clearly the kindest boss/colleague that I've ever worked with. Additionally, Rob was one of the most positive persons I've ever met. He was convinced that he would be in the hospital for a very short period of time, because he believed that there was a lot to accomplish at SPC. I just hope that we are living up to the example that he set.
Robert G Smith Jr CPA
Accounting Manager
---
I first met Rob through Session, while serving as a Mission Elder. Rob was on the Business Committee and helping steer and drive the campaign to raise funds for a new building. When I learnt more of his background, particularly his experience in enterprise software, I felt a sense of common ground, but was more intrigued by his philosophy of servant leadership and how his Christian faith melded into every part of that. It was non-confrontational, explained like a rational product strategy, except we were talking about matters of faith. In the time since, one of the aspects I've valued about Rob is that he could take it straight. I felt I could be blunt and honest with him mostly because he afforded those degrees of freedom and wasn't phased by criticism but looked at it as constructive feedback. He heard it, processed it and left you with a sense of "I heard you, and I agree" or "I heard you, but this is where we're at now". I always respected that. As time passed, I realized this rare mix of empathy rooted in a strong desire to make progress was something that was unique to Rob but common to the lived experience of many of us.
When I first heard about Rob's diagnosis, in honesty, I didn't take it too seriously. Mostly because Rob seemed to have a plan. He was going to fight this and approach it with clarity and intent and like so many other things, I felt if Rob had a plan, "we" had a handle on it... Looking back, I still feel shaken how in a span of a few weeks, things changed so quickly. I know Rob approached it with every God-given measure of ability and thoughtfulness he could muster. But it reminded me that our life is in His hands, and no amount of our planning compares to His plan for us. But it also made me reflect that that's not an excuse not to plan, be diligent, optimistic and use the time given to the best that we can. Something about that old-school, farm-boy work ethic and a 'there's no time like the present to get started' attitude of Rob's speaks to me and reminds me of fundamentals around work, prayer and trust.
Sometime ago, I read a quote by Mark Twain that referred to "the calm confidence of a Christian with four aces". I loved that image. It was almost a way of portraying that you're playing a game where you can be assured of the outcome, because of who you're placing your faith in. In more recent times, I've heard more tongue-in-cheek interpretations of what Twain actually meant! But when I think of Rob, it's that initial interpretation that hits me - a man who was in no rush, because his confidence lay in his Maker, his plan and his ultimate purpose. He epitomized the player you don't want to play against. Quite simply because he's not playing by himself or for himself, but because of someone else. That calming confidence, that full hand, that declaration that "I am a Christian" came so naturally to Rob that we all paused and took notice.
Thank you Rob for your example, your life story and all you given so many of us to be more of who we are while here.
Santosh Thomas
Mission Elder
---
In life, you find that certain friends and acquaintances tend to stay within specific contexts. You may only see certain neighbors at the kid's bus stop or co-workers at work. Same goes for church family. You forge friendships at church that may or may not stay within that specific context. I had the privilege of running into Rob outside of the church context so during a Puget Sound Business Journal event a few years ago. It was such a joyous coincidence to find each other and see each other in action in a professional business setting. What I remember most from that day, was just sitting at a table, sharing a beer with him and watch him effortlessly witness to everyone gathered around in a way that was natural and unthreatening. How being a Christian is such a natural way of life and how it influences his approach to business and every decision he has made and every relationship he has forged. People just gravitated toward him and his light. I'll never forget that day and still think back on it frequently and smile. I'm grateful that the last time I saw him in person, I left him with a hug and said "I love you."
Annette Kohlmann
HR Elder
---
I did not know Rob until I joined Session at SPC in August 2017. When I had coffee with Jeff Lincicome when we were discussing the Long-Term Planning Elder position, he was explaining the responsibilities to me and said I would work "closely with our awesome Stewardship Elder Rob Wallace". Well I had no idea how true Jeff's description would prove to be.
Well this was beginning of a friendship that I could not ever anticipate how much Rob would mean to me. He was my best friend at SPC and someone I always looked forward to catching up with. We took over a failed building campaign and rolled up our sleeves and made the best of what we could do with the remaining campaign commitments. Rob's actions put the church on the best financial footing since I had been on Session. We talked about the mistakes in assumptions for such a massive undertaking and prayed for God to lead us through this and he did.
I will share my final phone conversation when Rob was in the hospital. It was Saturday, February 14 and the highlights of the conversation went something like this:
"Hi Marc, how are you doing? No hello this is Rob - that was Classic Rob always picking things right up in stride. I was anxious to talk to him about how he was doing and what his next steps were, but it was all about him asking me for updates on various things. Had we done this at church and let's talk about this strategy. Rob and I were joined at the hip when we looked at things financially and strategically. We both have this focus on efficiency and optimizing results.
I finally got to ask him a few questions and shared how much I enjoyed his post and the personal note he received and shared on CB from Seahawk legends, Jim Zorn and Steve Largent. This was classic Rob highlighting their strong Christian values plus - their amazing NFL statistics – I think that is the Finance backgrounds in both of us.
Cindi and I are going to miss Rob tremendously as is our whole SPC family. Rob was a man of such high integrity and principle. A role model to so many in a variety of roles.
Again, on his (Caring Bridge) CB site he referenced his friend that led him to Christianity – saying – I want what that guy has. Well I will tell you – I want what Rob has. I only knew Rob for less than three short years, but I learned so much and we developed such a great friendship. Rob was by far and away the best thing about Cindi and I joining SPC after being at our former church for 26 years.
We are all so blessed to know Rob and have him be a part of our lives."
Marc Wright
Business Committee Elder
---
Rob was a man on a mission. While there's lots of men on missions, Rob was on God's mission. He possessed a unique ability to read people and situations and bring the best to finding solutions to the problems at hand, discover a way to make them work and implement the solutions with amazing precision. He was also a man with a heart after God's own heart. He would hear from the master on his long hikes, carefully discern what He was saying and move forward obediently and confidently on whatever instructions he received with a fierce fearless boldness, abandoning any concern for himself and thinking only of the higher calling.
For these and many other reasons, we will miss Rob. We'll miss his ability to bring unity and peace were confusion and disorder were amidst. We'll miss his focus, his candor and his love for the people who he served with. Never short on expecting the best from everyone around him, he was the consummate, coach, strategist and team leader. As he sit's peacefully on his throne in heaven he's likely looking down on us now seeing ways that we can improve, get better, get more done in less time and doing his best to impart some of his passion and energy to us so we can carry on as he did when he was with us in body as well as in spirit. A straight shooter if there ever was one, Rob added great value and insight to everyone who knew him.
While we celebrate because we know he's joyfully with his Master, we miss him today and look forward to joining his team again soon.
Steve Gandara
ExcellentCultures.com
---
My friend Rob I have been honored to serve SPC as an elder and had the great privilege of getting to know Rob Wallace through that experience. I respect Rob for his deep love of family, his everlasting faith and his sincere love of our church community. Rob served as our stewardship elder when I joined Session and I quickly found I related to Rob's analytical business mind and technical understanding of the numbers. Through our work together, I learned from Rob how to trust God in all things -- including how the budget was going to turn out. This was a hard but important lesson for me as in my business career, I'd learned to be cautious and skeptical. Now, I'm more optimistic and trusting – which has served me well in many parts of my life. I also really appreciated Rob stepping into a staff leadership role as our director of operations. Rob served with a servant's heart and faith – both in God, of course, but also in our SPC staff. Rob cared deeply about our pastors and staff and invested a lot of his own expertise and leadership in helping our team grow personally, professionally and as a team. I miss Rob and I'm sad we haven't been able to come together to celebrate his life in a traditional way. Rob was an amazing human and deserves a great celebration. I'm also sad that Rob isn't with us on earth to see how our SPC congregation and staff have come together during this challenging COVID19 season. I take comfort believing Rob would be proud of how we've stayed close to our values and while adapting with new technologies like online church. Rob Wallace will always hold a special place in my heart.
Ian McKerlich
Former Adult Ministries Elder
---
One of the things I admired about Rob was his ability to absolutely lock in on you while in conversation. Often times we'd talk in a crowded sanctuary, but I always got the sense that our
conversation was the only thing happening. He never looked over my shoulder, or lost eye contact. He just locked in, which gave the sense that our conversation was the only thing that mattered right then and there. Rob and I also spent some time talking about work, and my company tried helping him find some consulting engagements later in his career. I was impressed at the breadth of his expertise. He was strong in technology and in accounting – so much so that our recruiting teams had difficult time determining which area he was strongest in. I think this breadth gave him great perspective when approaching a situation in life, in work and at church. He contributed in so many diverse ways as a result. I admire Rob and I miss him. I hope he understands the enormous impact he had on so many in this world."
Tyler Dion
SPC Member
---
Rob, there are so many words that describe you. A man of integrity, a man who is polite, kind and trustworthy. A person who digs in and rolls his sleeves up to make sure the work is done effectively and efficiently. I so enjoyed working alongside you on session and listening to your words of wisdom and insight to help better SPC. I've also enjoyed getting to know you and Sally as friends. The love you share for each other and your family is contagious, beautiful and real. I am thankful for your friendship and your kindness towards our boys. I'm sad our time with you was cut short and Jesus called you home. I know you are living free of pain and joyfully holding Sally's hand in spirit each and every day. You are truly missed Rob - blessings to you and your family!"
Karen Dion
Former Worship and Hospitality Elder
---
Whenever people we care for and respect disappear from our lives, our most treasured possession is to seek comfort in the memories of our time spent together and to be grateful that God gave us that opportunity. I had the honor and privilege to work and learn from Rob Wallace. When I think of Rob the first thing that comes to my mind is that he was a servant of God. This Bible verse describes Rob for me:
"Each of you should use whatever gift you have received to serve others, as faithful stewards of God's grace in its various forms." 1 Peter 4:10
God says in His word that the most honorable person is one with a serving heart. Rob was a servant of God with a serving heart. He took care of all of us to please God. Rob would always be willing to help and serve. If there was ever an opportunity to serve and help others, he would be the first to volunteer with a smile. He was a person of strong faith. He believed that we are called to love the Lord with all our heart, soul and strength and love and care for our neighbors as ourselves. Rob exhibited these two priorities in his work and his relationship with people. I hope and pray that God will give us a serving heart like Rob's, to be able to help and serve God's people! I miss Rob's leadership, kindness and guidance, but I know in my heart that he is in heaven with Jesus, whom he dearly loved.
Rest in God's peace, Rob.
Huma Taj
Glory Days Director
---
The thing that stands out for me about Rob was his presence. When I was on the Building Committee, I had frequent opportunity to interact with Rob. He would listen and engage in a manner that made one feel like your issues, questions, suggestions were the most important he had to respond to. He was a highly intelligent person who exuded God's grace and always made me feel like my input was important. Most importantly, Rob's deep faith was always at the forefront of who he was. He was a 24/7 witness for God's goodness and love. The last time I saw Rob was when he courageously spoke to the congregation about his upcoming journey with cancer treatment. Those of us who had the privilege of knowing Rob are better for it.
Terry Brady
Mission Committee Member
---
I had the honor of serving as an elder with Rob for three years. When I think of Rob, I think of a man who loved God, his wife and family, his church, and the world around him. I admired his steady, thoughtful, and loving leadership- always putting the interests of others ahead of his own. He always had a smile for me, a thoughtful word to share and a listening ear. He was a man of great faith. This verse reminds me of Rob Wallace... "Truly I tell you, if you have faith like a grain of mustard seed, you can say to this mountain, 'Move from here to there,' and it will move. Nothing will be impossible for you." (Matthew 17:20)"
Susan Howell
Former Children's Elder
---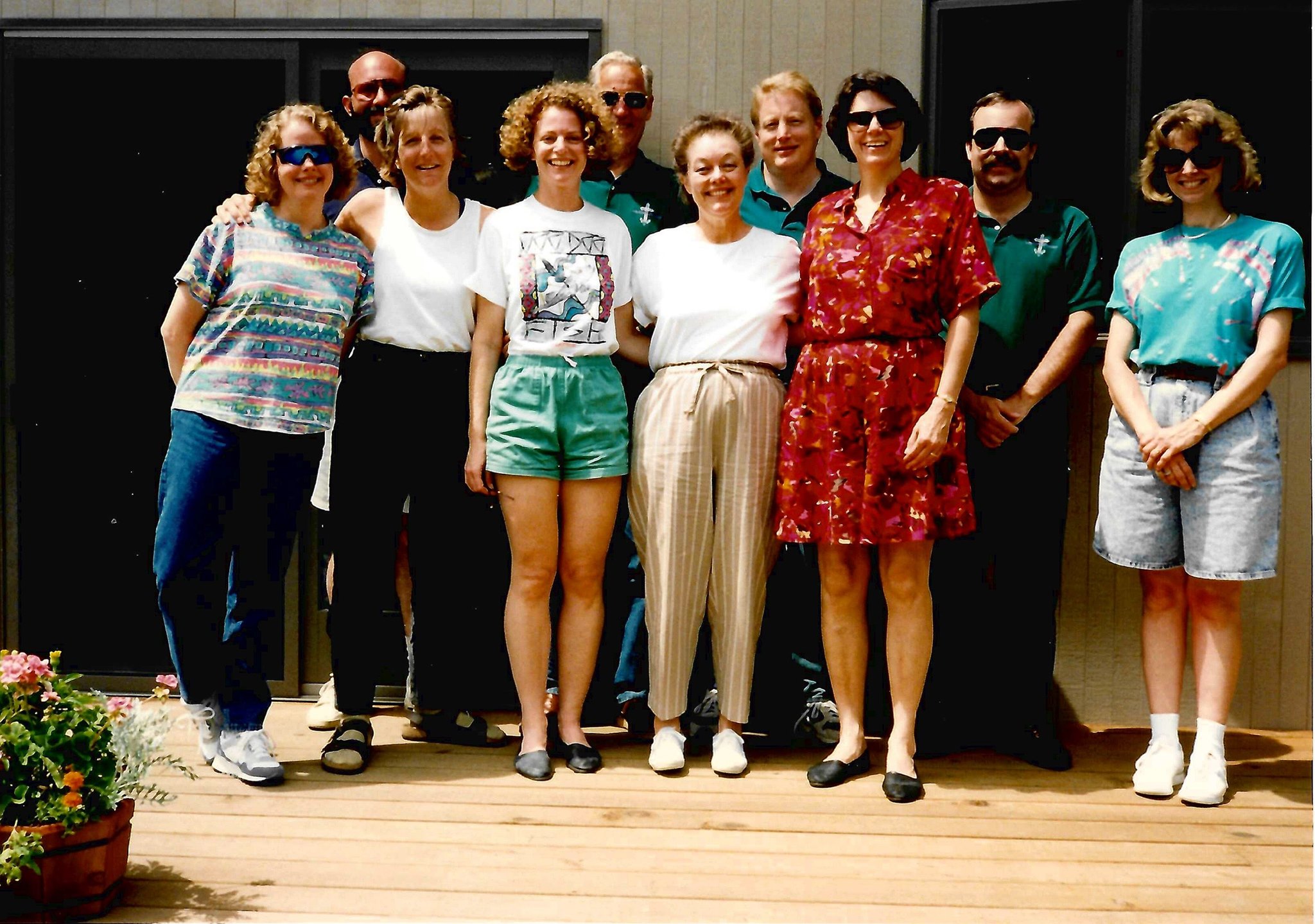 Carol and I first met Rob and Sally (and Mike and Anna) in about 1993 when we moved to the Plateau to attend Sammamish Congregational Church. We all really liked the Pastor, Spencer Marsh, a real Christian Leader who taught us so much about the love of Christ and the joys of fellowship. We were very involved in that startup church for many years. When Spencer passed away we eventually drifted apart. Many years later we found each other at Sammamish Presbyterian, what a joy to be involved again in Christian fellowship with Rob and Sally. Rob was my hero in Christ and I miss him so much. The time with Sammamish Presbyterian has gone by so fast and it's hard to believe he is with Christ now. Rob took time to really be with people in the church, actively interested in your life in Christ and heavily invested in the people and programs of the church. I really miss him but know he is with our Lord and busy in some ways we don't yet understand (working for the Lord).
Don & Carol Jarrett
Deacon
---
One day Rob bought a whole bunch of chicken, made some incredible sauces, and taught me how to cook them on the Traeger barbecue. The feast ended up feeding our whole staff and more. And, oh man, it was incredibly delicious! When I think of Rob that is one of my first memories. Rob approached grilling those chicken with a passion and so wanted others to know the joy, and goodness, of what could happen when you lovingly and thoroughly prepared something for others. And that's what I remember most about Rob. He lovingly and thoroughly prepared things for others. In the context I knew him, he prepared others on staff to do the best ministry they could. He worked hard to helping SPC staff and volunteers to be set up for success. He did this by spending hours working to organize us in ways that gave us every opportunity to do our best. He worked overtime to improve the building so that worship and onsite ministries could thrive. And he spent so, so much time sitting and chatting. Simply showing up and caring for those in our church family. Rob wasn't just a glue that held this congregation together. He was a magnet that drew us together. Although I only knew Rob for a short time he left an impression on me. I miss his encouragement and his passion. And I sure miss the way he could cook a mean piece of chicken!"
Brandon Bleek
Adult Mission Director
---
I began to develop a closer personal relationship with Rob when he joined the baritone section of the SPC choir about two years ago. It didn't take long before I understood that we had many common interests beyond singing to the glory of God. Rob was leading SPC's capital campaign and was readily available to have in-depth conversations with me about the church's plans. Rob soon became the SPC Operations Manager. In that position he was always responsive to questions and concerns which he considered as valuable feedback and input. I think anyone who worked with Rob had to admire, as I did, his solidly faith-based approach to issues; his willingness to seek inputs; his ability to communicate what was going on in the internal processes; and his determination to get the job done in the most effective way. I know all of us at SPC are missing Rob greatly, not only for what he was doing for SPC but also for his kindness and sincere friendliness.
Jerry Nuernberger
Former Missions Committee Member
---
As I think back to the role that Rob played in life at SPC the picture that comes to mind is a knight in shining armor, rescuing us from whatever operational dragon was at the door! Personally, Rob came to my rescue when battling cranky dishwashers and dealing with scheduling challenges during Community Dinner and in rescuing me from my tech inexperience in running the AV for the Thursday morning women's group. It was so very reassuring to have Rob respond with his calm confidence, his "above and beyond" approach to the challenge and his unassuming attitude. Despite the bazillion balls that he was juggling he always let you feel like your needs were his priority. As he shared his reflections during his battle with cancer it became apparent that his strength and attitude came from a deep love for the Lord and that the armor "knight Rob" was wearing was not of his own making but came from leaning into and serving God. He was a treasure to me and our community and is missed greatly!
Sue Maloney
Former Missions Committee Member
---
Rob and I met several years ago on a training run for SPC's Team World Vision team. It was early in the season and very cool, so we decided to walk together to warm up. On the trail, our attempt to run was short-lived. Rob said he'd need to walk but he wanted to see me run it. He believed in my ability (more than I did) and checked in with encouragement several times over that season and the next. That June I managed to complete my first Half Marathon and his encouragement meant a lot to me along the way. Last September Rob had become Operations Director at SPC, and I'd uncovered the opportunity to show the latest Screenagers film at SPC. Discussions unfolded about the tactics of communication, hospitality, and follow-up. Rob provided clear insights that were very helpful to a lay person not that familiar with how to proceed. He reiterated and supported such an event as it was part of SPC's mission. He also really reinforced the roles of the SPC staff. This past December we had the chance to chat at an SPC dinner and our talk returned to families. We'd moved from kids to about spouses, and Rob really lit up when he talked about how he and Sally met years ago growing up in the Carnation valley. High school sweethearts. He was so happy talking about her.
Jon Stilwell
Deacon
---
Two themes immediately come to mind when we think of Rob Wallace: Servant Leader and Lover of People. We only had the privilege of knowing Rob for a year before he died. But in that year we came to deeply appreciate Rob's servant spirit. He was often the first one to come, the last one to leave, the grill master, the guy always there to lend a hand. Rob was a leader with great vison and one who led by example. He simply loved serving and the joy that filled him made others want to come along for the ride.
And what a lover of people Rob was! We will forever be grateful for the friend he became to our son, for his encouragement and interest in what God was working in Tad's life. Rob participated in Tad's Ordination service and then frequently asked how things were going for him in his first pastoral call. We saw this in so many other relationships too. Rob recognized the gifts and potential in others and was eager to help bring out the best in them.
Rob did all this, a tireless servant leader and steadfast believer in people, because he sought above all else to model the life and teaching of Jesus Christ. Colossians 3: 16-17 come to mind when we think of Rob:
"Let the full richness of Christ's teaching find its home among you. Teach and advise one another wisely. Use psalms and hymns and Christian songs, singing God's praises from joyful hearts. And whatever work you have to do, either in speech or action, do everything in the name of the Lord Jesus, thanking God the Father through him." – J.B. Phillips translation.
Christ's teaching found its home in Rob and we thank God for having known him, even for a short time.
Ted and Nancy Schuldt
Hospitality Elder