*It is a policy to not type out the name of the camp in public posts.
For part two of my refugee ministry update I am going to focus on "The Camp". For those of you unfamiliar with The Camp, it is a detainment center located on the island of Lesvos (or Lesbos) in Greece. The island is separated by only about four miles of water from mainland Turkey and is one of the closest and most accessible entry points to European Union territory for refugees seeking asylum. When the refugee crisis began in earnest in 2016, it was merely a transfer point where one stayed for no more that a few days – just long enough to get your paperwork before moving on to another country. But that was back when the borders were still open. After the borders closed, people arriving on Lesvos seeking asylum are required to stay on Lesvos while their asylum claims are processed. Due to the overwhelming amount of claims the authorities are trying to process, this can take anywhere from several months to a couple years. More people are still arriving constantly though there has been a sharp drop in arrivals compared to last year. As a result, the camp which had been expanded to be able to officially house 3500 is occupied by around 15,000 people (down from over 20,000 earlier this year). When SPC sent two teams on mission trips there in the past, the camp contained only 2000 one year and 6000 another.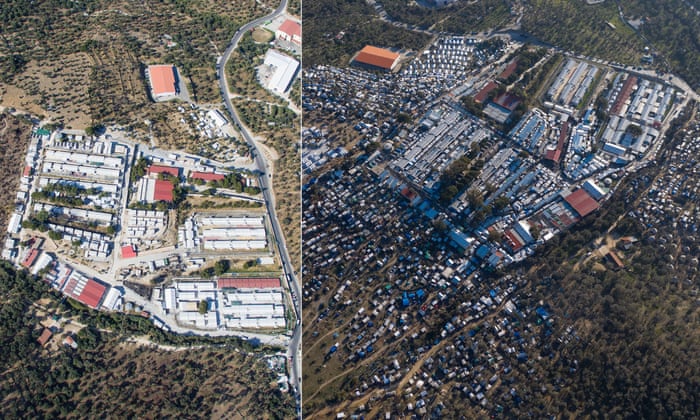 The sudden surge of at least 15,000 new arrivals in 2019 has been beyond anything the authorities or NGOs have been able adequately respond to. It is a true humanitarian crisis. There is not enough infrastructure to accommodate the sudden influx of people residing there. The power grid built for 3000 is constantly trying to be accessed by 15,000, so it constantly trips off. In the same way, the overtaxed well is also frequently shut off to allow it a chance to recharge. While water bottles are distributed to keep everyone hydrated, there is insufficient water to be able to maintain good hygiene. People are waiting in line for an hour to use the bathroom. In the overflow areas referred to as The Jungle there is no infrastructure and the danger is high. Many women and children wear diapers at night to avoid having to leave their tent after dark for fear of being raped. The camp is considered one of the most overcrowded places on Earth. There is trash everywhere (although the grassroots organization of refugees within the camp call the M___ White Helmets are doing what they can to help clean up).
Basic medical care for the size of the population is inadequate. People with issues like diabetes, HIV, and PTSD are not getting the treatment they need. The normal medical needs are great enough but now the camp also suffers from "prison-style" stabbings as rival groups of young men seek to dominate within the camp. One doctor who volunteered there in February 2020 described the camp as a "living hell". Not surprisingly, experts have been warning for years that the camp conditions were ripe for a major infectious outbreak. Influenza, scabies, and meningitis are already reoccurring problems in camp. Frequent hand washing and social distancing are impossible under these conditions. And now there is an ongoing global pandemic.
Greece went into lockdown early in the pandemic and has already reopened. Fortunately, from what I can tell, the only cases of COVID-19 on the island have been a few people returning from international travel and two asylum seekers they discovered on the North shore. They have managed to keep those cases isolated and have not experienced any community transmission on the island. Doctors Without Borders set up a Covid-19 isolation unit on Lesvos to help the island avoid a widespread outbreak, but it was forced to shut down in July. Since the beginning of the pandemic, any new migrant arrivals are taken directly to "quarantine camps" on the island to be tested for COVID and quarantined before allowed into the main camp,
So here is my one good bit of news: so far, THEY HAVE MANAGED TO KEEP COVID-19 OUT OF THE CAMP! The camp has been on lockdown since March 23. Only one family member can leave on essential business. My understanding is that volunteers coming to the island to volunteer at the camp must isolate in their hotels for two weeks before they can enter the camp. Once they are in, they stay there for the duration of their service - no heading back to town to eat or sleep in a hotel. Now, only the refugee camp on Lesvos continues to be under lockdown even though the rest of the island is now open. Rights groups complain that continuing the refugee only lockdown at this point is discriminatory and is restricting access to much needed care.
But the fight against a COVID-19 outbreak has not been left to the NGOs and authorities alone. The refugees themselves, being the smart, capable people that they are, did what they could to help fight COVID with the resources they had. A group of refugees living in the camp comprised of pharmacists, teachers, and other professionals have formed the M___ Corona Awareness Team (MCAT). Early on they spread awareness about the virus throughout the camp informing people about how to best protect themselves from this new virus. They are also doing what they can to recycle, provide cold water, and teach upcycling to the children. MCAT as well as the *oria White Helmets have Facebook pages you can visit and many videos you can watch about their efforts in the camp.
Please continue to pray that the virus does not get a foothold in such a vulnerable population!
Robin