We follow and serve an all-knowing and all-powerful God. One who is not only Savior, but reigns over our lives and the world around us. During times of crisis, like the one we are all going through right now, it is sometimes hard for me to remember this. My human brain tries to make sense of the world and how things work, but this often proves fleeting and insufficient. I try to understand what God is doing and permitting to occur. How will he author reconciliation this time? I need to constantly remind myself that this is only work for Jesus.
COVID-19, among other crises around the world, has brought about opportunities for transformation. A season that is uncertain, messy, uncomfortable, and out of our control. I'm left thinking which of life's "goal posts" will eventually be moved back to the way they were pre-crisis? And which "goal posts" will be transplanted for good? Sometimes crises leave us with lasting change, while others do not.
In my work with Doxa, other questions come to mind. How to adapt to a new landscape? How does it look to honor relationships during challenging times? How do we complement and build off of the changing systems around us? 10 years from now, what would success look like during this challenging season? While I can't answer these questions perfectly, I think God uses them to help guide me. An active prayer life, discipleship, and obedience seem more important than ever (even though they're equally important all the time).
For Doxa, we have used this moment for prayer, evaluation, and innovation. It is not the time to revisit the vision or mission of the organization, but perhaps the process by which we carry those out into the world. Even though it may look a little different, Doxa continues to create impact through house building, education, and community.
House building, a project previously characterized by volunteer groups coming to Tijuana, mixing cement, and hammering nails needs to adapt during this season. During these times, we've formed teams of local people to carry out the building process and I've refocused to primarily communications and raising donations. Not only does this follow through on our commitment to families waiting for new houses, but also provides increased employment to a population that is experiencing layoffs and reductions in working hours. While not rocket science, these simple solutions provide a greater impact than could have otherwise been realized during a challenging time. Praise be to God for opening up this new opportunity! It may also be something that becomes a permanent fixture within Doxa, even after this season of crisis passes.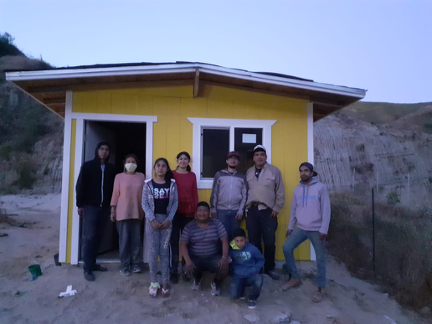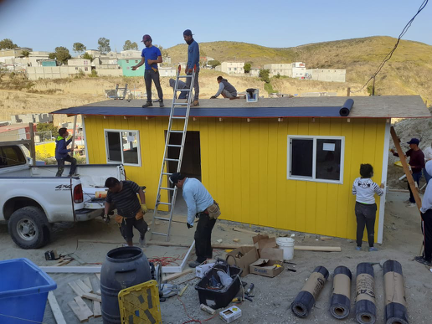 Local teams building in Tijuana
Doxa's education program is also in the midst of a chaotic season. Schools around Tijuana have attempted to transition to distance learning. Poorer communities often don't have access to technology or Internet services that are required to participate. So, instead of investing in school uniforms, Doxa has equipped those students to learn from home with laptops and Internet access. Tutors continue to check-in with students and families through WhatsApp or phone calls. While it has been a struggle for students to effectively learn in a digital world, our minds have been opened to the greater role that technology could play in the future of education.
How do we facilitate and support community without face-to-face interaction? Difficult, especially for Doxa that organizes over 135 annual events and activities. This is also not unique to Doxa as many churches (including SPC) are wrestling with the same. Since our local partners, Hogar de los Niños and Unidos por Siempre orphanages, rely on house building group revenue to sustain their operations year-round, we have leveraged our relationships to get them needed funding. For families in the surrounding neighborhoods who experienced layoffs, it was providing a stop-gap measure of a food basket. And now that we are exceeding the 3-month mark of a pandemic, new issues such as domestic violence and depression are becoming more common in the household. Doxa functions as a hub to point people in the direction of resources and specialists to help. We have also discussed the idea of virtual counseling sessions for parents. While we hope that most of these solutions are temporary, we focus on what we can learn during this time and what results in a value-add for the community at-large. It's too soon to tell exactly how this story will end.
Crises can bring about transformation: at personal, organizational, governmental, and global levels. In this way, they can be a formative part of our history. Part of God's plan for me was a personal crisis my senior year of high school. I had worked hard, achieved good grades, volunteered, and played sports. On paper, a great candidate for college (or so I thought)! Instead, I was met with rejection. Not a single college accepted my application.
I went to high school in an area where "normal" meant attending a 4-year university with a name that most everyone would recognize. God had other plans. I remember feeling ostracized, uncomfortable, and judged. At 17 years old, I didn't even have the mental wherewithal or tools to fully comprehend what was happening. I sat looking out at the world, watching it pass me by. Could it already be my time to exit the action? Seemed too soon.
With my senior year finished, it became real that I had no plans. No more classes to attend, no more projects, no more practices, no more requirements to fulfill. For the first time in my life, I got to make up the requirements, evaluate what success looked like, and carry that out into the world the best way I knew how. I definitely didn't learn that process in high school.
As the rest of my friends went off to college, I entered into a few months of reflection, introspection, and prayer. Thinking about my life, what resonated with me, and what I held to be true at that point. During challenging times God's promise is not to solve everything for us, but to instead be present with us through the struggle (Isaiah 41:10).
I ended up exploring various volunteer opportunities to fill my time, but always kept coming back to Tijuana. A place where I had gone for a week in high school to build a house. Tijuana and its people intrigued me, as there was so much varied activity that I had never seen before. My little brain kept trying to reconcile the Tijuana-world with the world I grew up in. Too many questions, to the point of overload!
I ended up moving to Tijuana, finding a home in Hogar de los Niños orphanage and being able to identify with the older boys who lived there. They felt unwanted by the world around them, and in my own way I could identify with that. We already had a common language before I learned to speak Spanish. God facilitated and continued to teach me through the many relationships that were formed in Tijuana. I spent about a year there before returning to the U.S. to finally attend college.
Even though I just spent a year living in Tijuana, it was the year that I did the most maturing in my mental and spiritual life. I can't share who I am without sharing about Tijuana. It's woven deep into my fabric. Something that can't be separated. God showed me people who exemplified his grace and selflessness, even in the midst of material poverty. He artfully and perfectly squashed my previous notions of success. He used Tijuana to teach me about family, community, service, empathy, and the expression of love.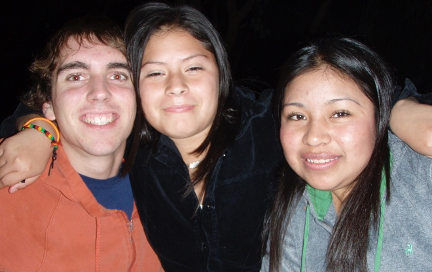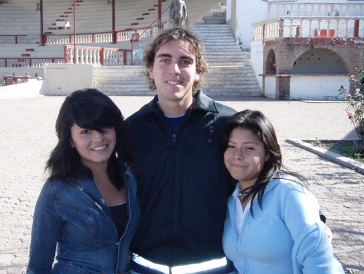 Alex and orphanage friends in 2006
Crises can disrupt our physical, emotional, and spiritual worlds. They bring opportunities for lament, anger, change, and learning (whether we are ready for them or not). The Bible is filled with reminders that there is a season for everything, even the uncomfortable things. It is important to embrace and not rush these seasons. That they can be fully experienced with a humble heart.
Psalm 119:105 reminds us that God's word is a lamp to our feet and a light to our path. Actually walking with a lamp is rather uncommon these days, but when doing so it's only possible to see the step immediately behind, the current step, and the step immediately in front. Only God knows where the end of the path will lead. He invites us to use his teachings and examples to do the best we can in the step we're currently in, even if it doesn't seem to make sense by worldly standards.
It is my prayer that on the other side of these crises, love will flourish and be sincere, intelligent, and responsible (Philippians 1:9-11). That God's reconciliation and refreshment will wash over anew for each and every one of us.